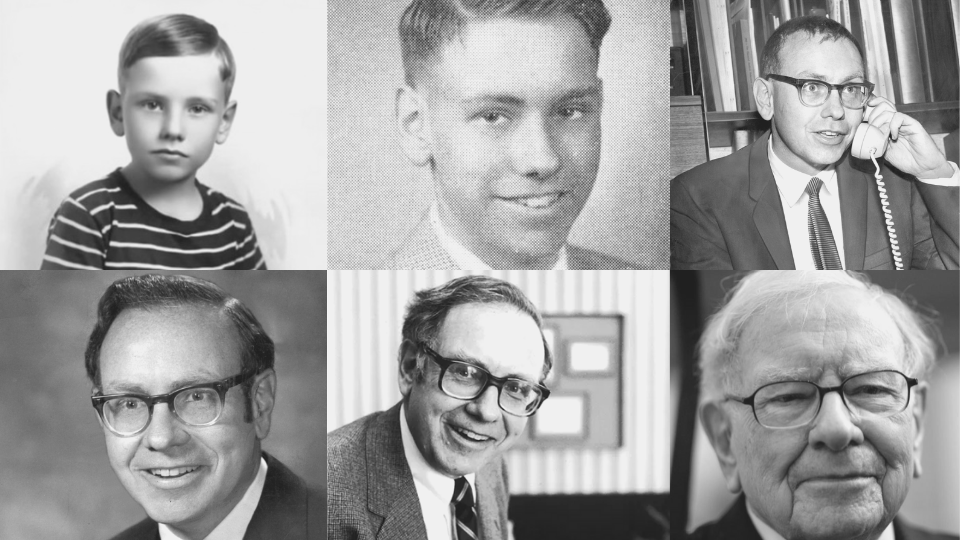 In 2021 Warren Buffett is now 91 and still the head of Berkshire Hathaway. Let's see how he got to be one of the most successful and well-respected investors ever.
1936 – Age 6
In the midsts of the Great Depression, a young Buffett began his business life selling Juicy Fruit gum, making two cents per pack profit; he refused to sell one piece at a time, worried he would be left with four pieces not sold. Buffett also sold Cokes at 5cents/bottle, 6-packs purchased from his grandfather's store for 25c, giving him a 5cent profit.
1941 – Age 11
With all his money, Buffett buys six shares (3 for himself and 3 for his sister Doris) of Cities Service (now CITGO Oil) stock for $38 per share. His lack of diversification would follow him through life. The stock fell to $27 and then rose to $40 when he sold it, however he did miss out, after another few years it went to $202. Buffett considers this an early "patience in investing" lesson.
1943 – Age 13
Buffett files his first tax return deducting $35 for his bike, a work expense.
1945 – Age 15
Buffett sells Washington Post newspapers making $175/month, saves $1200, and buys 40 acres of farmland in Omaha, Nebraska.
1947 – Age 17
Buffett and friend Donald Danly start Wilson Coin Operated Machines. The business buys a pinball machine for $25 and puts it in a barbershop. Wilson Coin makes Buffett and Danly $50/week. Within months they own three machines and a year later sell Wilson for $1200. Buffett does his and Wilson's tax returns.
1949-1954 – Age 19 to 24
Buffett's savings reaches $9800, and he studies under Benjamin Graham and Columbia University. Buffett was willing to work for Graham for free but was not offered a job.
Buffett begins playing the ukulele which he still plays today.
Buffett marries Susan Buffett in 1952 and remained married till her death in 2004
First children Susan and Howard are born in 1953 and '54, with youngest Peter following in 1958
Buffett returned to Omaha and purchased an unsuccessful Texaco station. He also works as an investment salesman at his father's brokerage firm, Buffett-Falk & Company.
In 1954, Benjamin Graham calls Buffett and offers him a job for $12,000 a year. During this period, Buffett also works closely with Walter Schloss.
1956 – Age 26
Buffett's wealth has grown to $140,000. Graham decides to retire and close his business.
Buffett returns to Omaha on May 1st and opens Buffett Associates Ltd. Seven family members and friends invest $105,000, and Buffett invests $100k.
1957 – Age 27
From his home, Buffett creates and manages five more partnerships.
1958 – Age 28
After three years, Buffett has doubled the partner's money.
1959 – Age 29
Buffett meets Charlie Munger through a mutual friend Edwin Davis at a dinner. Munger, who Buffett to this day thinks is more intelligent than himself, will become a lifelong friend and Vice-Chairman of Berkshire Hathaway.
1961 – Age 31
Buffett is now running seven partnerships worth a few million; Buffett Associates, Buffett Fund, Emdee, Dacee, Glenoff, Mo-Buff, and Underwood.
Sanborn Map Company accounts for 35% of the partnerships' assets. He tells the partners that in 1958 Sanborn was $45 per share when its investment portfolio value alone was at $65 per share, undervalued by $20 per share, thus providing a map business for nothing. Buffett also reveals he earned a spot on Sandborn's board of directors.
Buffett makes his first million-dollar investment; Dempster – a windmill manufacturer.
1962 – Age 32
Buffett goes to New York to meet old acquaintances, find more partners and raise capital. He collects a few hundred thousand dollars, and Buffett partnerships is worth $7.2 million. Buffett merges all partnerships into one and names it, Buffett Partnerships Ltd.
Munger introduces Buffett to the CEO of Dempster, Harry Bottle, who turned the company around by cutting costs, laying off workers, and generating cash. Buffett notices Berkshire Hathaway selling for $8/share and begins buying aggressively.
1963 – Age 33
Buffett sells Dempster for a gain of $2.3 million, three times the invested amount.
Buffett continues purchases of Berkshire for $14.86/share; the company had a working capital of $19/share, not including the value of fixed assets. Buffett Partnership becomes the single largest shareholder of Berkshire Hathaway.
1964 – Age 34
Because of involvement in the salad oil scandal, American Express share prices fall to $35. Buffett seeing an opportunity, buys 5% of the company.
1965 – Age 35
After a meeting with Walt Disney, Buffett invests $4 million in Walt Disney Corp., almost 5% of the company. Buffett takes complete control of Berkshire Hathaway and names Ken Chase as CEO.
1966 – Age 36
Buffett closes the Partnership to new investment, stating, "unless it appears that circumstances have changed (under some conditions added capital would improve results) or unless new partners can bring some asset to the partnership other than simply capital, I intend to admit no additional partners to BPL."
Berkshire buys into Baltimore department store, Hochschild-Kohn.
Buffett's holdings in the Partnership are now worth approximately $6.8 million.
1967 – Age 37
Buffett Partnership now controls 59.5% of Berkshire Hathaway. Berkshire pays a 10 cent dividend, the first and last it has ever paid.
The Partnership is now worth $65 million. Buffett's share is worth $10 million. Buffett informs partners that in the current bull market, he is unable to find suitable investments.
Buffett briefly considers leaving investing to pursue other interests.
American Express stock hits $180/share; a $20 million profit on a $13 million investment.
Berkshire Hathaway buys into National Indemnity Insurance and National Fire and Marine Insurance Company for $8.6 million.
1968 – Age 38
The Partnership is now valued at $104 million.
1969 – Age 39
Berkshire acquires Sun Newspapers and Blacker Printing Company (Publishing), as well as Rockford Bank and Illinois National Bank (Banking).
Buffett chooses to close the Partnership and liquidate the assets to its partners, recommending that they:
Consider joining Bill Ruane's Sequoia Fund
Take the cash
Take shares in Berkshire Hathaway that Buffett now controls
Between 1957-1969 Buffett Partnership annual returns averaged 31.6%, and his stake grew to $25 million.
1970 – Age 40
The Buffett Partnership is dissolved, and assets are divested.
1972 – Age 42
Via the Blue Chips Stamp Company, Berkshire aquires See's Candies (Chocolates) and Wesco Financial Corp (Financial Services).
1973 – Age 43
Berkshire begins buying stock in the Washington Post Company (Publishing), becoming a member of the board of directors and close friends with Katharine Graham, the company and its flagship newspaper's controller.
1974 – Age 44
With falling stock prices, Berkshire Hathaway's portfolio value also falls; with it, Buffett's net worth falls by more than 50%.
1975 – Age 45
Buffett merges Berkshire with Diversified, the firm controlled by Charlie Munger.
Munger gets 2% of Berkshire's stock and becomes its vice-chairman.
1976 – Age 46
With its stock price just above $2, Berkshire invests $4 million in GEICO (Insurance) and continues to do so until 1996, when Berkshire will acquire the company.
Berkshire's subsidiary, National Fire and Marine Insurance acquires Central Fire & Casualty and Cypress Insurance companies.
1977 – Age 47
Berkshire invests $32.5 million in the Buffalo Evening News (Publishing). He is also investing in Knight-Rider (Publishing), Interpublic and Ogilvy-Mather (Advertising), and Kaiser Industries (Metals and Mining).
1978 – Age 48
Berkshire invests in ABC Broadcasting (TV Network) and SAFECO (Insurance).
1979 – Age 49
Berkshire begins buying shares in General Foods (Foods), Affiliated Publications and Media General (Publishing), Handy & Harman (Metals and Mining), FW Woolworth (Retail), Precision Steel Warehouse (Materials and Construction), and Amerada Hess (Oil).
Berkshire is trading at $290/share, Buffett's net worth is now approximately $100 million, and he receives a $50k/year salary.
1980 – Age 50
Berkshire continues buying stock in RJ Reynolds (Tobacco), ALCOA (Metals and Mining), Cleveland-Cliffs Iron (Metals/Mining), Pinkerton (Professional Services), National Detroit (Banking), Times Mirror (Publishing), and National Student Marketing (Financial Services).
1981 – Age 51
Berkshire buys GATX (machinery) and Arcata (Forest products/Paper).
1982 – Age 52
Berkshire invests in Time (Publishing), and Crum & Forster (Insurance).
Buffalo Evening News has no local competition, and its name is changed to the Buffalo News, earning $19 million its first year and by the late eighties, $40 million a year.
1983 – Age 53
Berkshire merges with Blue Chip Stamps, a majority-owned Berkshire subsidiary.
Berkshire purchases Nebraska Furniture Mart (Furniture) for $60 million.
Berkshire's stock price starts 1983 at $775, ending the year at $1310. The portfolio is worth $1.3 billion, and Buffett's net worth reaches $620 million, making the Forbes richest list for the first time.
1984 – Age 54
Berkshire purchases $139 million in Washington Public Power Supply System bonds, invests in Exxon (Oil) and Northwest Industries (Diversified).
1985 – Age 55
Buffett helps merge ABC TV and Capital Cities (Communications). Buffett is forced to step down from the Washington Post's board; legislation prohibits simultaneously sitting on the Capital Cities and Washington Post boards.
Berkshire purchases Scott and Fetzer (Kirby vacuums and World Book Encyclopedia), Beatrice (Food), and Fecheimer Brothers (Uniforms), and closes its textile business.
1986 – Age 56
Berkshire purchases Fechheimer Brothers and invests in Lear Siegler (Aerospace)
Berkshire's stock price passes $3,000.
1987 – Age 57
Berkshire purchases 12% of Salomon Brothers (Investment Bank).
Berkshire loses 25% of its value ($4,200 to $3,100) on Black Monday, and Buffett's wealth falls by $320 million.
1988 – Age 58
With $1.2 Billion, Berkshire begins buying Coca-Cola, gaining a 7% stake.
Berkshire buys Freddie Mac.
1989 – Age 59
Berkshire acquires Borsheim's (Jewelry) and Gillette (Toiletries). Berkshire's stock rises from $4,800 to $8,000/share, and Buffett's wealth reaches $3.8 billion.
1990 – Age 60
Berkshire purchases 10% of Wells Fargo (Banking).
1991 – Age 61
Berkshire acquires H. H. Brown (Footwear) and begins purchasing M&T Bank (Banking), and Guinness (Beverages).
Buffett serves as Solomon Brothers CEO following a treasury bond trading scandal.
1992 – Age 62
Berkshire acquires Central States Indemnity of Omaha (insurance) and becomes General Dynamics (Aerospace) largest shareholder. Buffett continues serving as Chairman at Solomon Brothers.
Berkshire's stock passes $10,000/share.
1993 – Age 63
Berkshire acquires Dextor (Footwear), later considered a bad purchase.
1994 – Age 64
Robert Hagstrom's The Warren Buffett Way is published, and it becomes a bestseller.
Berkshire invests in Gannett (Publishing), PNC Bank, and McDonald's.
1995 – Age 65
Berkshire acquires Helzberg's Diamonds (Jewelry) and R. C. Willey (Furniture).
For the first time, Berkshire Hathaway's annual meeting is held in Omaha's Holiday Convention Center, and the stock passes $25,000 per share.
1996 – Age 66
Berkshire acquires Flight Safety International (Aviation training) and the remaining stake in GEICO.
Wesco Financial, a Berkshire subsidiary, acquires Kansas Bankers Surety(Insurance).
1997 – Age 67
Berkshire acquires Star Furniture and International Dairy Queen (restaurants), also investing in Travelers (Insurance). Buffett makes an investment mistake in US Airways.
Buffett invests 2% of his portfolio in silver.
1998 – Age 68
Berkshire purchases General Re (Insurance) and Executive Jet (Aviation), which is renamed NetJets.
1999 – Age 69
Berkshire acquires Jordan's Furniture, a Massachusetts furniture powerhouse, and parts of utility company MidAmerican Energy Holdings.
2000 – Age 70
Berkshire acquires several companies:
Ben Bridge (Jewelry)
CORT, the leading national "rent-to-own" furniture company
Justin Industries (Acme Building)
Shaw Industries, the world's largest manufacturer of broadloom carpets
Benjamin Moore, the paint manufacturer, founded in 1883.
Carson Group names Buffett the 20th century's top money manager, over Peter Lynch and John Templeton.
From 1990 to 2000, Berkshire outperforms the Dow Jones 1580% to 280%.
2001 – Age 71
Berkshire's acquisitions continue:
Johns Manville Corp (building products)
MiTek, steel connector products, design engineering software and ancillary services for the global building components market
XTRA Corporation (transport containers)
H&R Block and Moody's Corporation (Financial Services)
9/11 terrorist attack insurance claims total $2.28 billion; Buffett apologizes to shareholders for failing to foresee the risk and improperly priced insurance coverage.
2002 – Age 72
Berkshire acquires Albecca and Larson-Juhl (picture frames), Fruit of the Loom and Garan (clothing), CTB (heavy equipment), and The Pampered Chef (kitchenware).
Berkshire and other investment groups purchase $500 million in Level 3 Communications bonds; a former Omaha fiber network company.
Buffett enters an $11 billion forward contracts deal of US dollars against other currencies; by 2006, these contracts had gained over $2 billion.
2003 – Age 73
Berkshire acquires Clayton Homes (housing), McLane (wholesale distributor), and Burlington Industries (clothing and furnishings).
2004 – Age 74
Bill Gates is elected a Berkshire Hathaway director.
2005 – Age 75
Berkshire acquires Medical Protective (Medical malpractice insurer), Forest River (leisure vehicles), Pacific Corp (Power Distribution) paying 9.4 Billion, and Anheuser-Busch (Beverages).
Berkshire subsidiary, Shaw Industries, buys stock in Honeywell Inter.
The insurance businesses lose about $2.5 billion from Hurricane Katrina, but Berkshire records a gain of $5.6 billion.
Berkshire stock passes $90,000/share.
2006 – Age 76
Buffett announces he will give away more than 80% of his $44 billion fortune to five foundations, the most significant contribution going to the Bill and Melinda Gates Foundation
2006's acquisitions:
Business Wire (media distribution)
Russell Corporation (apparel)
Brooke Sports (apparel)
80% of Iscar Metalworking Companies (IMC) valuingIMC at $5 billion.
Applied Underwriters (insurance)
TTI Inc (electronic components)
Southern Energy Homes (utility)
Berkshire stock passes $100,000/share.
Buffett marries longtime companion Astrid Menks.
2007 – Age 77
In his letter to shareholders, Buffett announces that he is seeking a young successor/successors to run Berkshire, Lou Simpson, who manages investment via GEICO, had been slated but is only six years Buffett's junior.
2007's acquisitions:
Boat America Corporation, which owns Seaworthy Insurance and controls the US Boat Owners Association
Jewellery manufacturers Bel-Oro International and Aurafin LLC merge into Richline Group.
60% of Marmon Holdings (electrical components holding company).
SE Homes (construction)
2008 – Age 78
Berkshire buys Marmon Holdings and Coachmen Industries, joining with Forest River (leisure vehicles), as well as buying $4.4b in bonds from Mars Inc. (food) and makes $680m in profit.
2009 – Age 79
Berkshire subsidiary, Shaw Industries, acquires Sportexe (synthetic turf company).
Berkshire acquires Cavalier Homes (home construction)
An investment and derivatives $5 billion "paper" loss triggers a first-quarter loss for Berkshire, its most significant since the 9/11 attack, however earnings rebound later that year.
2010 – Age 80
Berkshire invests in Munich Re (Insurance) and buys Burlington Northern (railroads) for $44 billion; as a result, Berkshire enters the S&P 500, replacing Burlington Northern-Santa Fe.
Berkshire subsidiary, McLane, acquires Kahn Ventures.
2011 – Age 81
Berkshire acquires Lubrizol $9.7 billion(Chemicals).
2012 – Age 82
Berkshire invests in IBM (Tech services), which Buffet will eventually regret, and acquires Omaha World-Herald (Publishing).
Buffett is diagnosed with stage I prostate cancer.
2013 – Age 83
Berkshire buys a 50% stake in H. J. Heinz Company (Food) for $28 billion and oil pipeline, Phillips Specialty Products.
2014 – Age 84
Bershire buys battery maker Duracell from Procter & Gamble for $4.7 billion deal, completes in 2016
2015 – Age 85
Berkshire buys a large holding in Phillips 66(which Phillips will eventually buy some back for $3.2 billion due to regulatory issues) and begins purchase negotiations of Precision Castparts (aerospace/industrial goods)
2016 – Age 86
Purchases Precision Castparts and Berkshire's largest dollar purchase ever at $37 Billion; in 2021 Buffett said he paid too much, having to fire 10,000 employees in 2020.
2017– Age 87
Buffett changes his position on tech and purchases 76.7 million shares of Apple stock (he considers it a consumer products company now), also trading some warrants for 700 million shares of Bank of America, becoming its largest shareholder and an investment gain of more than $14.2 billion in just over six years. Berkshire also sold much of its tech investment a large portion of its IBM stock.
2018– Age 88
Though having $108 billion in cash and desire, no major acquisitions were made in 2018, but Berkshire purchased $43 billion in public securities, primarily Apple.
2019– Age 89
Berkshire has built its cash supply to over 122 billion and still made no major purchases. Selling a quantity of its Apple, Serius XM, and about 10% of its Wells Fargo shares.
2020 – Age 90
Berkshire started the year owning 48 securities with a market value of $251 billion.
Having grown its cash supply to $137 billion, Berkshire makes its biggest acquisition since 2016, purchasing Dominion Energy's natural gas storage and transmission business for $10 billion.
2021 so far
Since the year 2000 Berkshire A-shares have gained 620.8% are now trading over $415,000,this is compared to the S&P500, which has gained 211%, and the Nasdaq up 397% in the same period.
Buffett's wealth stands at $104 billion, up $60 billion from when he agreed to give 80% of it away in 2006, his total charitable giving has reached $41 billion and he has stated that he will be giving 99% of it away by his death.
Buffett has stated that Berkshire has still not officially found a CEO replacement for himself and that picking the wrong person is the worst thing that could happen to the company.
However, at the most recent annual meeting, Charlie Munger made an offhand comment that Greg Abel, 58-year-old Vice-Chair of Non-Insurance Business Operations, is Warren Buffett's successor. No timing for a transition has been divulged, until then, the Oracle of Omaha, elder statesmen of Berkshire, Warren Buffett, will remain at the helm.
Buffett's story still continues...
Are you interested in learning how to invest like Buffett? Then check out my curated list of investing resources.
WAIT!
Join 32.659+ fellow investors and receive 3 investment spreadsheets and an ebook for free!