Free stock screeners are brilliant tools for value investors to filter out the hidden gems from the thousands of available stocks, because no one has the time to sift through all of them one by one. That's why you need to focus all your attention on a few high potential stocks, and by far the best way to find these high potential stocks is to use a free stock screener.
There are some pre-set value investing screeners out there which allow you to instantly see a list of stocks that meet the criteria Benjamin Graham used to find stocks, for example, like the ones from GuruFocus and the AAII. The problem is that you have to pay for those screeners.
That's why instead I will discuss general stock screeners which require you to input some parameters yourself, but which are free. While this seems a bit more difficult, it's actually fairly easy, as the following basic parameters will already allow you to find interesting value stocks:
Return on Equity > 15%
Indicates high profitability and potentially a competitive advantage
Debt-to-Equity ratio < 0.5
Implies that the company does not heavily depend on outside capital to finance its growth
Current ratio > 2
Makes sure that the company is able to pay its short term obligations
** Click here to read more on how to find undervalued stocks using stock screeners **
Now let's look at the stock screeners themselves!
Top Free Stock Screeners
Yahoo Finance
Zacks
FINVIZ
CNBC
TradingView
1. Yahoo Finance stock screener
The free Yahoo Finance stock screener is personally my favourite stock screener, since its user interface is very clean, and they cover stocks from the US, Canada, India, UK, Europe, and more.
Also, once you've filtered down the list using their screener, Yahoo has a lot of valuable data on each company that you can access with a single click.
Yahoo now even allows you to add intrinsic value and rate of return to your screener, which is very useful for value investors, but unfortunately they put those parameters behind a pay wall.
2. Zacks stock screener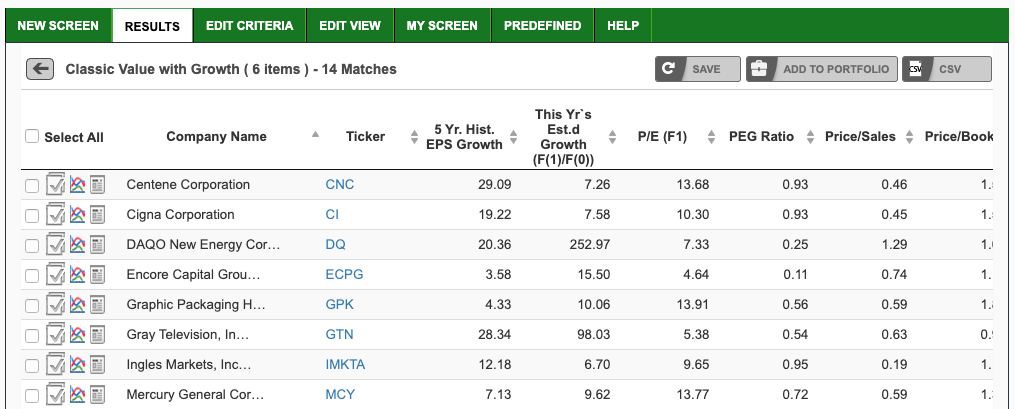 The Zacks stock screener is a powerhouse, but the user interface might take a little time to figure out.
Zacks added several unique parameters to their screener, like analyst ratings and EPS estimates, on top of all of the parameters you find in most other stock screeners.
Zacks is of course known for their Zacks Rating system, and this rating, as well as a Value Score, are also available in the screener, but unfortunately they require a premium subscription.
Luckily, there is an option to view predefined value screen for free, so that is very helpful for value investors.
3. FINVIZ stock screener

The FINVIZ stock screener has been around for a while, and is a trusted resource in the investing community.
It is not as flexible as the other screeners, since you have to select the values from a dropdown instead of typing them yourself, but on the other hand this also simplifies things a bit.
And while the FINVIZ screener has a focus on technical analysis, some of these signals can actually also be interesting to value investors, and are not available in most other stock screeners.
A great example is the "Recent Insider Buying" signal, which will only show you stocks where the owners have recently purchased extra stock, signalling that the people closest to the fire believe now is a good time to buy.
There is also a ton of additional information available for all stocks returned by your screen at the click of a button.
4. CNBC stock screener
The CNBC stock screener is mainly included here, because it has a few pre-set screens for value investors.
They have, for example, a "Solid Companies" screen, as well as a "Small Cap Value" screen to help you to quickly identify potentially great stocks trading at reasonable prices.
Of course, you are also able to create your own custom screen.
A downside is that CNBC only supports US stocks.
5. TradingView stock screener
While TradingView is a website focused on technical analysis and day trading, the TradingView stock screener actually offers a HUGE amount of fundamental parameters to filter stocks on as well.
Both the strength and the weakness of this screener is that there are so many options, as it makes the screener very powerful, but also a bit overwhelming.
Still, if you like to combine technical and fundamental indicators, then the TradingView stock screener is one you must try!
They also cover stocks from a wide range of countries, which is a big plus if you invest in Canada, Europe, or anywhere outside of the US.
Closing thoughts
In this article, we covered 5 powerful, free stock screeners for value investors.
They offer most of the functionality you would want in a screening tool, completely free of charge, but of course there are also certain features that only paid screeners can offer, like the ones from GuruFocus, Stock Rover, or my own Value Scout.
So start out with the free ones, and only consider the paid ones if you really miss some functionality, need certain parameters to be unlocked, or simply want an even easier way to find interesting stocks to buy.
I hope this was useful!
WAIT!
Join 32.659+ fellow investors and receive 3 investment spreadsheets and an ebook for free!