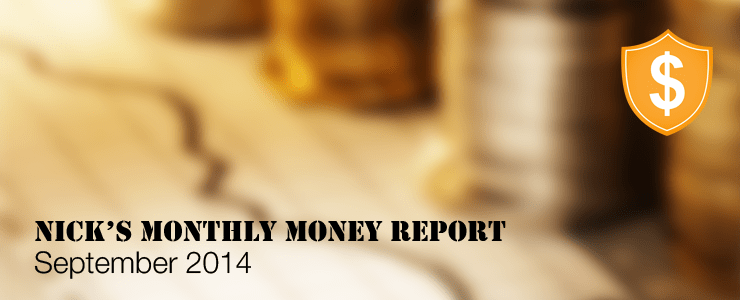 It's a miracle, but so far I have been able to launch these monthly reports on time! This month was not the most productive I've ever had, but still I got plenty of unexpected developments and intriguing insights to share with you in this month's edition.
MAJOR HAPPENINGS THIS MONTH
First ever guest post - A new milestone was reached with the release of the first ever guest post on my blog this month. Paul Marcel, one of my readers and an expert on options, contacted me and proposed to write an article on how value investors can use options to increase their returns. I then proofread the article, added some extra bits and pieces, and the result is a highly informative article from which I learned a lot myself, which is great!
Website improvements - In last month's report you could read how I moved the Value Spreadsheet website to a new webhost and also started using a more powerful mail server (although some of you are probably not receiving my newsletter anymore, but I'm working on this). This month I set up secured URLs throughout the entire website (see the beautiful green lock in front of the https in your browser), and optimized the speed of the website to further enhance your viewing pleasure. This led to all kinds of technical difficulties, but everything on the website should be working again, except for the fact that all my social media buttons were reset to zero :-( (if you happen to know how to salvage them, please contact me).
New house, new office - This month I moved to a new place and also moved in to a new office in the absolute center of my beloved Amsterdam. It's a creative working space where I'm surrounded by entrepreneurs, startups and all-round inspirational people. Hopefully this environment will allow me to focus even more on creating informative content for you guys (I got something interesting lined up for you in the coming month..).
ValueScout bèta - I held a contest last month where 3 readers could win access to the private bèta release of my upcoming investment tool, dubbed ValueScout. However, while still developing the tool, I found out that there are tools out there which, while not offering the exact same functionalities, were still too similar to mine and already far more professional and covering way more stocks. These tools include the GuruFocus BuffettMunger screener and the up-and-coming, highly impressive financial platform Jitta.com.*
That's why I decided to suspend the development of ValueScout for now. This was a fairly big decision, since ValueScout is already 90% finished and I have invested a lot of time, energy, and money in it, but I only wish to offer you the best-of-the-best tools out there, and after some thorough testing I concluded that Jitta was by far the strongest player out there for value investors, and will only become better over time. I actually got in touch with the owner of Jitta, and you can expect me to talk much more about this currently invite-only tool in the future!
* I have invited the bèta testers to Jitta instead, while also giving them access to the unfinished ValueScout tool
PORTFOLIO NEWS
With regards to my portfolio, not much happened. Of course, some of my holdings moved a bit, but nothing spectacular or noteworthy. I did use the unfinished bèta version of ValueScout to identify a potential hidden gem. This stock is a micro-cap growth stock with zero debt, Return on Equity between 20 and 30%, and a decent valuation. They are a market leader with a relatively simple, high-quality product. I am talking about an under-the-radar stock called Omega Flex (OFLX). I have placed an order for a price significantly below the current share price, because the stock is not cheap, but definitely has potential.
Also, I started applying the option strategy explained in the guest post I mentioned before, but with a slight tweak from my friend and pro-trader Chris Moody, who I recently interviewed for my new podcast. He said that you can sell a put option, as explained in the guest post, and simultaneously buy a put option with a lower strike price. This way you lock-up less money in the trade, allowing even people with small portfolios to earn a decent amount of income from the option premium, and you'll no longer run the risk of having to purchase the stock. Pretty sweet! We might cover this strategy in more detail in a future interview or blog post.
LESSONS LEARNED
This is always my favorite part to write, since it provides me with an excuse to become all philosophical, which I love!
Options equal power - I'm not talking about the options you trade on an exchange here, but about options in the sense of having a choice to either do this, or do that. Tim Ferriss once said that "The person who has more options has more power. Don't wait until you need options to search for them." And the truth of this message became painfully clear this month when a friend of mine had, after several weeks of searching, finally found himself an (expensive) place in Amsterdam, where he moved for his job, and then heard from his boss that same week that he was fired. His boss then bossed him into signing an early leave paper, which he was silly enough to sign, which left him with an expensive place, no job, and no salary, since he gave that up when he signed the paper.
He talked to me about starting his own business, but I reminded him that it usually takes months, if not years, before most businesses generate any real income, so if money was his main concern, he might be better off looking for a job and setting up a business in his free hours. He put all his money on one horse, the job in Amsterdam, and had no other options. Signing the paper left him with even less options. Now he is obviously stressed out, because he feels he has lost power over his situation.
The lesson I drew from this is that you should make sure you always have options. If you need one extra client, call 3. They might all say yes. If you are looking for a house, have at least several you really like, so you have the power to leave the price negotiation if one of the sellers won't play ball. If you are looking for a job, have several interviews lined up. They might even raise their salary offer. In short, overdo things so you always have options, because options equal power.
The obstacle is the way - I just finished reading Ryan Holiday's new book, The Obstacle is the Way, and can recommend it to anyone who needs a guide on how to take setbacks and turn them into triumphs. The central idea is that something which initially looks like an obstacle, a hindrance, is often a blessing in disguise.
For example, I used to work from home, but when I moved to a new place this month, the cable company told me it would take 6 weeks (!!!) to get internet up and running. Insane, but true. I was about to get pissed off, because how would I be able to run my website for 6 weeks without internet?! But then my always insightful roommate reminded me that I always wanted to try a flexible working space, and that this could be the perfect time to give it a try. He was right, and here I am, writing this article from my flex-desk in the centre of Amsterdam. It's an awesome experience and I'm glad I decided to try it out.
So take things as they come to you, and find a way to use an apparent obstacle as a springboard instead of a roadblock.
FUTURE PLANS
The upcoming month was supposed to be all about the launch of my ValueScout investment tool, but, as I mentioned before, this tool is put on hold for now. So what will I do? Leisure? Well no, I still have some further improvements planned for the website, but more exciting than that is my idea of launching 30 videos in 30 days (or however many my schedule permits), each covering one tiny subject related to investing. These videos will hopefully teach you a thing or two while also increasing my presence on YouTube, which happens to be the second largest search engines in the world.
I also have a new podcast episode coming up with Hewitt Heiserman, author of It's Earnings That Count, on the controversial topic of earnings manipulation. Other than that, this month will require some improvisation, so we'll see what October brings.
I do have one idea though, which is related to the fairly recent introduction of the XBRL financial reporting language. In theory, XBRL should make it easier for software applications to access financial statement information directly from the SEC website, which has definitely piqued my interest. If you have any experience with-, or knowledge about XBRL, I would love to hear from you!